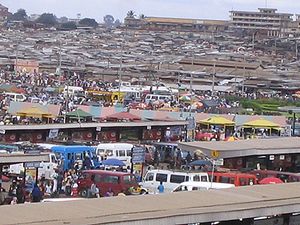 Since my last post I have done a bit of extensive traveling and exploring. Last week, we took a trip to the Volta Region in Northeastern Ghana to visit the Wli Falls. It's a large waterfall located in the middle of a mountain. It is water that is sourced from a natural spring on the top of the mountain and falls down into this very small pool of water.
We stayed at a lodge at the foot of the falls. A German couple, Sabina and Bernard, had been hiking up the falls owned it; they loved it so much they decided to retire there. They have opened a lodge that supports the local economy by attracting tourist from around West Africa and Western Europe. In addition, they employ locals from the Volta Region and buy fruit, vegetables and other foodstuffs from the local community farmers and producers. Sabina and Bernard also have a garden of their own on the property. There are also locally made products such as wood carvings, jewelry, skirts, shirts, quilts, hats, etc. It was very clean and felt like home.
The next day we hiked through the forest to the lower falls; we saw pineapples, experienced palm wine from the palm tree, and crossed nine bridges before we arrived at the falls. There, we were able to swim in the pool below the falls and then swim IN the waterfall! It was great. It was a nice break from the noisy, polluted and smelly city center.
We had a day off and spent the day next to the pool, drinking lagers and writing e-mails to friends. The sun was so hot; I burned in about twenty minutes. But it was nice to spend time next to the water. That night, we had a welcoming ceremony. A dance group
Then, we headed out for Kumasi, north of Accra. It takes about four hours buy bus. We visited the Kente weaving village and bargained for Kente cloths. We also toured the King's palace and the history of the Asante tribe, hit up the cultural center and then tackled the great Kumasi Central Market, the largest and most complex market in all of West Africa. It is a very complex market to properly describe because the market is on such a massive scale. There are frequent fires because the mix of goods, electricity and sheet temperatures are so humongous. There is a picture above.
Please let me know if you want me to expand more. I am working to secure an internet connection at the hostel.
Miss and love y'all so very much!